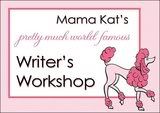 Hubby and I had our wedding in the park, a low budget affair with not a whole lot of bells and whistles, more like a Sunday bbq where everyone is dressed up.
My mother was the ring leader and I was the 2nd in command. I'm sure your thinking it should have been the other way around, but I really needed someone else to be in control. I did get all things approved by me first and mom was great as long as I kept her in check or she would have went crazy and had me wear a tiara or some other crazy thing like that.
In the plans for the wedding in the park, my mother was to bring a music cd that she had of some real soft classical music. I was supposed to go through the cd to determine which song was going to be used. This was supposed to have happened earlier in the day while everything was getting set up.
As you all know preparing for a wedding is brain frying work and the bride has enough on her plate as is, these little things tend to get lost or forgotten in the frenzy.
Needless to say I never saw the cd or listened to it. As I sit here now, I have no clue what happened to it. I had made arrangements with my BIL to bring his Cher cd for some lively music afterwards, you know while everyone was eating. The main song on that cd that I was most interested in was "It's in his kiss", it was one of the songs that was playing on the oldies channel on the radio (well the older version of course), that day hubby and I went for that ride together, the day we meet. In case you missed that post, you can read it
here
. Although we hadn't kissed yet, the song lingered in the air that night. Leaving that song with special meaning for me.
Dad and I were all ready to walk down between the chairs to the canopy my mother had pain stakinly labored over. The music was que'd and the boom box was started. I was expecting some unknown soft song that mom had rushed to make a decision on.
Yup you guessed it! Dad and I walked down the isle to the bebop song of "It's in his kiss"! The small group of family and friends, grinned, laughed and looked puzzling to each other.
I could see mom jump out of her seat to correct the matter, but the mystery cd was not right there and well it was too late now. Dad was up and out of his wheelchair and already walking. She sat back down almost as quickly as she had gotten up; she was mouthing "Sorry" to me.
I could have cared less cause I was already laughing and could see hubby was too!!
For more Writer's Workshop post, click on the button and head on over to Mama Kats place.