Soo I have noticed a few of the folks I follow doing this thing called Writer's Workshop. It wasn't till recently I noticed this meme gives you several topics to choose from, so I thought I would check it out and see how it goes.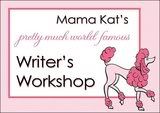 This week's assignments are:
1.) Choose a headline from The Today Show website and write up an opinion post based on the story you chose.
I have reviewed the headlines for the last two days and either they get me agitated(or down right mad) or I really don't have an opinion worth writing about.
2.) Write a poem about the last thing that made you mad.
Poems are Suzicate's forte. I do good to read them!
3.) Write about a joke that did not go over well.
All my jokes end badly cause I forget parts or nearly all of them.
4.) Write a funny story involving socks.
I do believe I can do this one, just don't know how funny it will be.
5.) It happened on Facebook...write about a funny or awkward conversation you saw unfold on Facebook.
I am sooooooooo NOT going there!!
Socks..
Oh sure I could write about the sock that always seems to lose its mate, but we all know how that ends...The sock monster that lives in the dryer took it!
Okay so on to my little story...
As most of you know (especially the poor or just plain old), the entertainment of children was once something that had to come from your imagination. In our house the Sock puppet was all the rage! Now I'm not talking about a store bought fancy one or even the some-what fancy ones that you decorate.
Like this one:
Even this one is better than what we had:
No, we had just a sock, a magic marker, a piece of furniture to hide behind and lots of imagination. The sock of course had to be one of dad's socks, they were the only ones that would cover your whole arm. We would draw faces, you know...just eyes, nose and mouth. We never could get very imaginative with the socks cause dad had to have them back for wearing. He only had a few pairs and we couldn't afford for him to spare any just for play.
Soo, as you can imagine...Dad walked around with sock puppets on his feet!
Sunday morning standing outside the church yapping with another family, dad had a pebble in his shoe and proceeded to take off his shoe. The other man just happened to look down and saw the puppet. Dad slipped his shoe back on, in embarrassment.
It was too late, all of us had seen it. Thankfully dad was reprieved from his embarrassment, by the thunderous laugh of this other man. They both got a real good chuckle out of it. Me, I was giggling!
Dad bought new socks the next month and gave us the old puppets!
Now go see Mama Kat and check out the other Writer's Workshop posts for this week.