I have been graciously given another Kreativ Blogger award from
Maureen
. Which I am very happy to accept!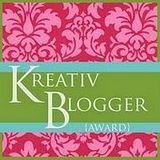 I would like to thank Maureen for recognizing my efforts to keep this blog at least a little bit interesting.
I would also like to thank all of my readers for being so supportive and not thinking or telling me that I am boring and for voicing their responses. I
in turn
do my best to answer all comments. Something I learned from watching others with their own blogs, thank you for teaching me blog etiquette.
What I am supposed to do is write 7-10 facts about me, then pass the "Kreativ Blogger" award on to other bloggers I like.
So here we go...
1) I have 3 Chihuahua's and 2 cats, they and hubby are my world.
2)I am a klutz, I can trip up the stairs just as easily as tripping down them. I can even trip myself with my own feet! I bump into things all the time. I can look down at my legs and count 3 bruises on my calves, but those are tiny. I have done worse! I once got a super sized one by walking into the leg of a bed frame that was leaning up against the wall on moving day.
3) I have recurring nightmares. Example:
I was napping today and had a familiar nightmare or
napmare
. The plot: I was at a old friends house visiting and had my dogs with me. Upon leaving
after dark
, one of my dogs run out the door. I'm yelling and running only to get to the door and see my dog being maulled by a wild dog. I of course wake up from the horror.
The people some times change and the location are never the same, but the plot remaims unchanged. That was just one example, there are more plots that do this to me.
4) Some of you may know this already: I was a runaway teenager. I am
of course
not proud of this, but it did teach me a lot of things I would never have learnt otherwise..like..
Some men can be nice just for the sake of being nice and not want someting in return.
That my family really did care about me and not just want me around for the sake of being a babysitter and maid.
That my Aunt was the coolest woman in my life at the time.
5) I have made a number of friends here that
most all
want to write or have written a book. I feel so out of place. I probably make all English teachers cringe! Due to my youthful lack of interest in school, I regret that now.
6) My mom and I have become real good friends. That didn't happen over night! It took a lot of drunken nights of calling her and proceeding to lay all the blame on her, for EVERYTHING! We finally came to a truce about 7 years ago and we have gotten closer than ever, ever since.
7) I am the "go to" person in my crazy family. I get phone calls from all in the family, either just to yak or to vent about someone else in the family. It is a very difficult task to try to keep the peace, but it's my job and I give it my best.
8) It drives me INSANE to hear the news people saying: "Americans are holding on to their money, instead of spending it". I would like to know where I am holding it, both of my hands are empty! Maybe I just forgot where I hide the hundreds or even thousands of dollars I've been holding onto. Would make a great presant to find IT!! If I had IT, I would definately spend IT!!
That is about it for now.
Now to pass this on to other worthy winners:
Kristin
A new find. She's just come back to blogging, so far her posts have been good reads.
Life in the slow lane
Another new find. Her writing is interesting.
The suburban Life
Another new find. Very funny!
Lulu
A newcomer. Her post are funny, interseting and well written.
I think
. Althought she is super sick right now, I'm sure she will continue to keep posting.
Spot, does this count as a "Spread the word Thursday"? I should be good for a month right? "No"...well I had to give it a shot!